Air Filter Services in Santa Clarita, CA
Professional Air Filter Replacement
An air filter plays a vital role in your indoor air quality and HVAC system's performance. It traps particles, bacteria and, in some cases, airborne viruses, ensuring your furnace or air conditioner delivers pure, healthy air. But as a barrier against indoor air pollution, your filter will eventually clog and restrict airflow.
That's why it's important to replace your filter regularly. JC Refrigeration Heating and Air Conditioning provides quality air filter services in Santa Clarita as well as advanced filters that will dramatically improve your air.
---
Call (877) 959-4240 or contact us online for air filter services in Santa Clarita!
---
How Often Should You Replace Your Filter?
We recommend replacing your disposable filter every at least every 60 days. In seasons of peak demand – summer and winter – change out your filter every 30 days to keep your air clean and your HVAC operating efficiently. And if you have pets, it's wise to swap your filter every 30 days because dander can quickly clog the material.
Of course, the rules of replacement only apply if your HVAC system uses cheap, disposable filters. These filters, commonly made of spun fiberglass, do the bare minimum: they protect your central air unit's inner workings from dust and debris while providing little value in terms of air quality. Consider upgrading your HVAC's filtration to breathe cleaner, healthier air.
What are the Benefits of Advanced Air Filtration
An air filter's performance is measured by the MERV scale. MERV is the minimum efficiency reporting value and it ranges from 1 to 16. The smaller the particle a filter can capture, the higher its MERV. Cheap replacement filters, the kind you can buy at any hardware store, are typically on the lower end of the MERV scale. They'll filter out dust, pollen and pet dander, and little else. That's why JC Refrigeration Heating and Air Conditioning carries several higher-end options to rid your air of bacteria and virus carriers:
Carbon filter: Using activated carbon, this filtration method eliminates odors and traps VOCs, gases and vapors that may be present in your home.
HEPA filter: High-efficiency particulate air filters have a MERV 11. That means they can screen out dust, pollen, mold spores, pet dander, bacteria and viruses. They're a good solution for allergy sufferers. However, not every HVAC unit is compatible with a HEPA filter. We'll inspect your system before recommending this type of filtration.
UV filter: UV filtration neutralizes viruses, bacteria and other biological contaminants as they pass through your HVAC system. This is the same technology medical facilities use to sterilize rooms and equipment.
---
Take the first step toward healthier air and contact JC Refrigeration Heating and Air Conditioning today. To schedule your appointment, call (877) 959-4240.
---
Hear What They Have To Say Our Customers Love Us
"There are not enough stars to show how great Manny and JC Refrigeration are!"

- Sharon H.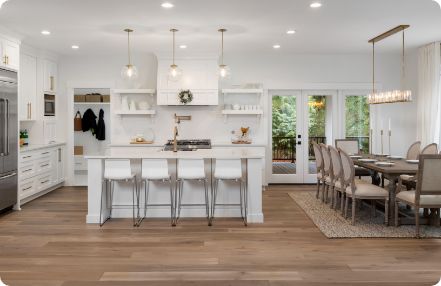 Fill Out This Form Or Call Us At

(877) 959-4240

To Get Started Contact Us